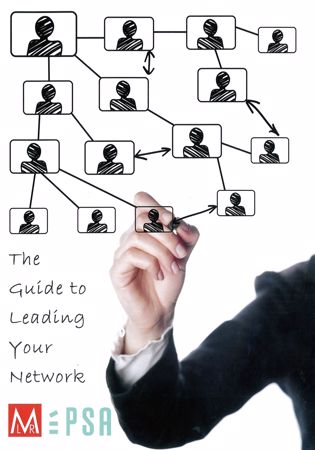 We are delighted to announce the publication of the PSA Guide to Leading Your Network. The Guide is designed for experienced and first time, or aspiring, leader-managers and can used for individual reflection and development or in facilitated group workshops.
Its purpose is to help managers identify and make the most of the informal networks that inevitably exist within all teams and organisations. Not only will it help managers become better leaders and managers of their own team, it will also help make them better network leaders, able to work across team and departmental boundaries, bringing together constellations of talent to get things done.
Left to their own devices networks develop naturally at work through homophily and propinquity, natural human inclinations to associate with people who are like us (homophily) and/or near us (propinquity). While strengthening these bonds contributes to team efficiency it can inadvertently inhibit communication with other groups and lead to a lack of effectiveness.
In other words, closely bonded teams often do things right, but not always the right things. For best practice to be shared and innovation to flourish some of the most important ties are those that cut across groups: traversing teams, functions and departments. The key is to get a balance between both.
Effective networks facilitate the exchange of accurate information about who does what, who knows what, and who needs what, in order to enable greater productivity, but also feed innovation.
The Guide is designed to help managers understand, nurture and lead networks, which in turn will enable teams and organisations to:
· Better target scarce resources.
· Challenge the silo mentality.
· Restructure the formal organisation to complement the informal.
· 'Rewire' faulty networks to achieve goals.
· Deepen the quality of relationships among team members.
· Reduce transactional costs (micro-managing and second guessing) by deepening trust.
· And be more innovative.
If you would like to order copies please use the following web address https://www.mlruk.com/the-guide-to-leading-your-network