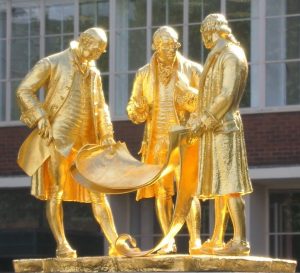 I was working with the Consumer Council for Water this month in the heart of Birmingham. Part of the city centre is a building site at present and consequently one of my favourite statues is missing. It used to stand outside the old Register Office on Broad Street and is a gilded bronze statue of three men, known locally as 'The Golden Boys' or 'The Carpet Salesmen' after the partially unrolled scrolls they hold between them. They are in fact James Watt, Matthew Boulton and William Murdoch, and they are examining the plans of a steam engine, which they are famous for improving and developing.
The three men were part of powerful network who lived and worked during the latter half of the 18th century, a crucible for change when the skills of technicians and mechanics were fusing with the observations and knowledge of natural philosophers. In Britain, it became fashionable to be an amateur inventor and form discussion groups in homes and coffee houses. People like James Watt, Matthew Boulton and William Murdoch were no longer happy to contemplate the world, they wanted to change it. Their curiosity and the new knowledge it spawned was both empowering and subversive, but while politicians feared political revolution they sought the rewards of industrial revolution.
As this year is the bicentenary of James Watt's death (1736–1819) and the 250th anniversary of his patenting of the separate condenser, which would radically enhance steam power and was fundamental to the changes wrought by the Industrial Revolution, let's follow his journey into that network.
Watt was a skilled technician and instrument maker, as well as a theoretician, who understood the principles of hydraulics and hydrostatics, and the application of mathematical theory, but above all Watt loved puzzles and was insatiably curious, and that curiosity was fed by a diverse and expanding network of entrepreneurs, manufacturers and academics.
Born in Greenock, Scotland, his father was a shipwright, ship owner and contractor, while his mother came from a distinguished family and was well-educated. He was brought up as a staunch Presbyterian, which encouraged a self-sufficient, questioning approach, in which learning was seen as the key to progress. Like a number of other great thinkers however, he attended school irregularly and was instead educated at home by his mother.
Sadly, in 1753, when he was seventeen, his mother died and his father's health began to fail. Watt travelled to London to study instrument-making for a year, then returned to Scotland, to Glasgow, intent on setting up his own instrument-making business. However, because he had not served at least seven years as an apprentice, the Glasgow Guild of Hammermen (any artisans who used hammers) blocked his application, despite there being no other mathematical instrument-makers in Scotland.
Watt was saved by the professors of the University of Glasgow, who offered him the opportunity to set up a small workshop within the university. It was here, in 1761, four years after opening his shop, that he began to experiment with steam after his friend and mentor, Professor John Robison, called his attention to it.
The University had a broken model of the Newcomen Engine (the first practical device to use steam to drive a mechanical apparatus) which Watt volunteered to repair. Having fixed it, he found that it still barely worked and so he tinkered some more and after much experimentation he identified the problem: about 80% of the heat of the steam was consumed in heating the cylinder because the steam was condensed by an injected stream of cold water. His critical insight, which came in 1765, was to condense the steam in a separate chamber, apart from the piston, and to maintain the temperature of the cylinder at the same temperature as the injected steam.
He soon had a working model, but the problem then was how to produce a full-scale engine. The principal difficulty was in machining the piston and cylinder, which was beyond the skills of the local iron workers. Strapped for resources, Watt was forced to take up employment as a surveyor for eight years, before finally forming his hugely successful partnership with the manufacturer Matthew Boulton, who owned the Soho Manufactory near Birmingham.
When Watt moved from Glasgow to Birmingham in May 1774, bringing with him his imperfect cylinder, he finally had access to some of the best iron workers in the world and the difficulty of the manufacture of a large cylinder with a tightly fitting piston was solved. Critically, this partnership also brought access to a dinner club and informal learned society of prominent figures in the Midlands, which included industrialists, natural philosophers and intellectuals.
This group met regularly in Birmingham between 1765 and 1813. At first called the Lunar Circle, the name arising because they met during the full moon, as it made the journey home easier and safer in the absence of street lighting, by 1775 it had become known as the Lunar Society. As well as Boulton and Watt, membership included: Erasmus Darwin, physician, natural philosopher, slave-trade abolitionist, and grandfather of Charles Darwin; Josiah Wedgwood, potter and entrepreneur, who founded the Wedgwood Company, and was also grandfather to Charles Darwin; and Joseph Priestley, natural philosopher, chemist, multi-subject educator, and liberal political theorist.
While members local to Birmingham were in almost daily contact, those more distant were in correspondence at least weekly and therefore a more loosely defined group can also be identified, covering a much wider geographical area. These included James Hutton, the Scottish geologist and physician; Benjamin Franklin, polymath and one of the founding fathers of the United States; and Joseph Banks, botanist and patron of the natural sciences, who famously took part in Captain James Cook's first voyage.
What set them apart, according to the social historian Jenny Uglow, was that 'their passionate common exchange was of a type that would never be possible again, until today, with the fast, collaborative intimacy of the Internet.'
There is little doubt that this network of friends and colleagues were an important part of the Enlightenment and the Scientific Revolution that encouraged scholars and craftspeople to apply new scientific thinking to mechanical and technological challenges. Like others of their generation they gradually incorporated science and reason into their worldview and contributed to the intellectual shifts that made British culture in particular highly receptive to new mechanical and financial ideas leading ultimately to the Industrial Revolution.
As John Stuart Mill observed in the following century, 'It is hardly possible to overstate the value in the present state of human improvement of placing human beings in contact with other persons dissimilar to themselves, and with modes of thought and action unlike those with which they are familiar.'
And that is as true now as it ever was.